The Piarist Community in France
Parish: Sainte Marthe - Pantin - Aubervilliers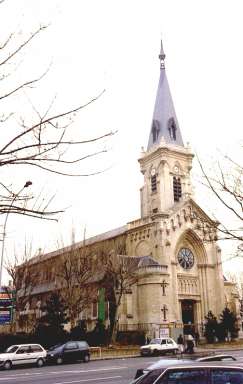 We suggest you to have a look at
---
The community
At present the Piarist Fathers Community is composed of: P. Charles Mascarˇ - Vicar
P. Joseph-Marie Canet - Curate
The parish belongs to the Piarist Province of Catalonia (Spain) (http://epcat.net/). It is located in the Diocese of St Denis, near to Porte de la Villette.
The parish was under of the Eudist Order before. 57 ethnie groups live in the area.
Responsibilities:
In the Diocese, the Piarist Fathers are responsible for catechetic.
---
Coordinates
Parish Sainte Marthe
3, rue Condorcet, 93500 PANTIN
Underground Station: Aubervilliers/Pantin/4 Chemins Line 7
Web Address: mailto:stmarthe.paroisse@free.fr
| | |
| --- | --- |
| Telephone (office): | +33 1 48 45 02 77 |
| Fax: | +33 1 48 46 38 26 |
Visitors are welcomed on:
monday - wednesday - friday from 5 to 7 p.m.
saturday from 10 a.m. till noon.
---
Our plans
At present, Piarist fathers or missionaries who expect to go to Africa or to a French-speaking country can stay on at the community to study the language.
---
The piarist order
The Piarist (in Italian language: Scolopi, in Spanish: Escolapios) Order was founded by Saint Joseph of Calasanz who lived in the sixteenth century. In Rome he found the children living in extreme poverty in the streets of the Trastevere district. Joseph of Calansanz invented the free education for all the children whereas teaching was reserved only for those who could pay a private teacher. This was a successful idea. Piarist were called out in Europe. He became the patron saint of the Christian popular education. Nowadays the Order consist of 1500 members scattered all over the world. If you wish more information, please connect your on: mailto:stmarthe.paroisse@free.fr

---
Parish activities
Reception, catechetics, sacraments.
Mutual aid groups, for example: Secours Catholique, 46, rue G. Josserand, opened on Thursday from 9 a.m. till noon; Liturgical group (mass) on Saturday at half past 10 a.m. Young people meet for prayer in Taize spirit (http://www.taize.fr/),or the FRAT organization (frat@cef.fr)
---
The recommended links
In Italy:
In Spain:
In Est Europe:
In Mexico: